What is a funeral plan? Free guide
Between 2015 & 2016 the cost of funerals rose 10 times faster than inflation. Latest research shows funeral prices have risen 103% since 2004 making them the UK's fastest rising living cost. In 2016 the total cost of dying is a £8,802.

These numbers paint a worrying picture and so it's no surprise that more than two thirds of us are making plans to cover funeral costs well in advance.

One option is a prepaid funeral plan. But what is one exactly? In this guide we answer the whats, hows and whys of funeral plans.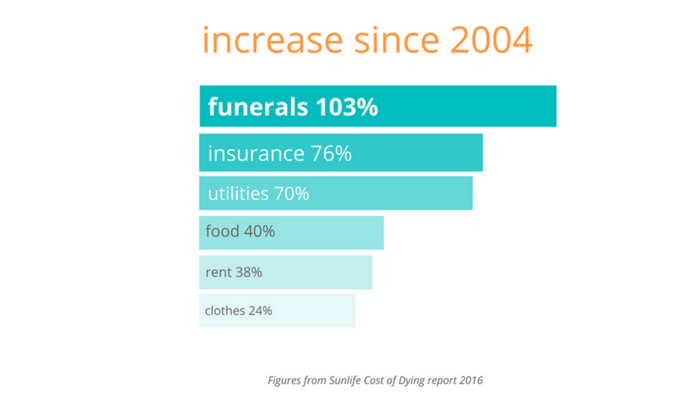 In this free funeral plan guide we answer
The impact of medical conditions
How to set out your personal preferences
What is included in a funeral plan
---
What is a funeral plan?
First of all, what is a funeral plan? Well, a funeral plan, or prepaid funeral plan in its simplest form is a way to pay for your funeral whilst you are atill alive. By paying in advance you save your family & loved ones the financial and practical worries organising and paying for a funeral at an already upsetting and stressful time.
However, the real benefit that you can effectively freeze the cost at today's prices. This means that your funeral will be exempt from future price increases. As a result, this could save thousands.
Rising funeral costs example
Today, the cost of a basic funeral, not including a wake, or legal expenses, costs £3897*.
If costs continue to rise at the same rate as they have been, in five years, the same basic funeral could cost £4779! So its probably worth thinking about funeral plans sooner rather than later so you can lock in at a lower price.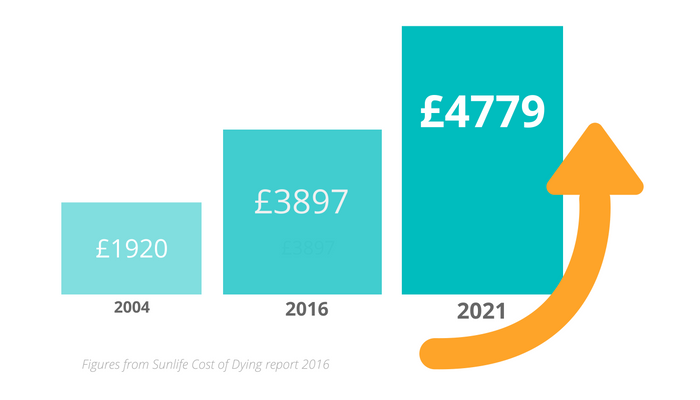 Take me back up to the top
---
Why do I need a funeral plan?
There are three main reasons to put a funeral plan in place:

1. Avoid increasing funeral costs
First of all, having a funeral plan gives you the opportunity to pay your funeral director's fees at current prices. As a result you can dodge future price hikes.
This is an advantage over other savings options like a savings account or life insurance policy where money may be put aside, but you are not necessarily protected against the rising costs of the funeral.
Therefore, the sooner you take your plan out the better. Once your funeral plan is paid for, the price is guaranteed regardless of when the plan is activated.
2. Save your family from having to borrow or use savings or inheritance
Another benefit is saving your family and friends from the financial burden of organising a funeral.
Your loved ones will be devastated when you pass away. And organising a funeral is stressful. Many families don't expect to have to find the thousands of pounds required to say goodbye.
One in seven people admitted that paying for a funeral caused them notable financial concern. Taking out a prepaid plan can save your loved ones unnecessary money worries at an already upsetting time.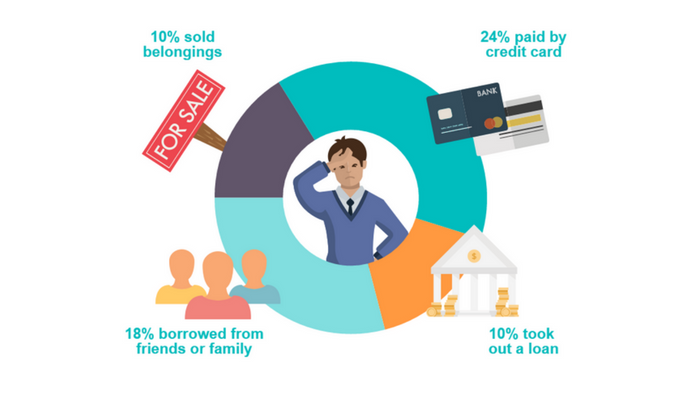 10% of people had to sell belongings to cover the cost
24% had to put the balance on a credit card
10% had to take out a loan
18% had to borrow money from a friend or relatives*
3. Peace of mind
Furthermore, getting a funeral plan well gives you peace of mind that your loved ones will know your wishes when the time comes.
A death in the family can be especially stressful, with no end of arrangements to be made aside from the funeral. So having a funeral plan in place also gives you the reassurance of knowing that your loved ones have one thing less to worry about.
Your family will appreciate the effort you put in now because they will know that your wishes are being taken care of and the funeral costs are covered.
---
How is the plan activated?
Your family simply need to call to activate the plan and your arrangements will be put in place, with the costs taken care of ahead of time.
Your plan provider will explain what your family needs to do when the time comes. They will make this process as smooth as possible. In some cases you may be given a document pack to pass on to the relevant person who is likely to organise your funeral.
Whilst it's not something any of us like talking about, it's probably worth sharing the details of your plan and plan provider with close friends or members of your family so they know who to contact.
---
What about medical conditions?
Another benefit of funeral plans is that there are no medical checks or restrictions. So you can still apply for a plan if you already have a medical condition. This can be a further advantage over insurance policies.
---
How do I pay for the plan?
You can expect to have the option of paying for your plan with a lump sum upfront, or by splitting the cost into monthly payments.
However, there are different providers have different levels of cover for different packages.  So it's worth getting advice to make sure you've found the find the right plan.
---
Can I set out my personal preferences?
What about the personal side of a funeral? In addition to the financial plans, there are also practical considerations and personal touches that you may wish to include. By setting out your preferences in advance, you can avoid the 'wrong' decisions being made and make the difficult task of organising a funeral a little simpler for those left behind.
In fact, 95% of those organising a funeral said that knowing some of the funeral preferences in advance made things much easier.
These can range from personal touches like music, your favourite flowers or special readings but also bigger decisions, such as whether you'd like to be buried or cremated.
Earlier this year, Sunlife released some research showing that just 59% of people organising a funeral knew whether their loved one wanted a burial or cremation. Furthermore, almost a quarter admitted they didn't know ANY of the deceased's wishes.
"When you consider that the average funeral alone now costs £3,897 with a further £1,976 being spent on the send-off (the wake, memorial, flowers etc) it is worrying to think how much money is potentially being spent on the 'wrong' funeral."
Graham Jones, director at SunLife
What is typically included in a funeral plan?
It's probably worth remembering that different providers have different packages. Some include more, or less than others. When you are comparing prices, make sure you are comparing like for like.
Our expert advisors can find your perfect plan so you have the key elements you are looking for at a price you can afford.
Most funeral plans cover all of the costs involved for a cremation funeral or to provide towards burial costs whilst noting your wishes for the service and wake.
Your funeral plan may include:
A will review
Your funeral director's fees
The price of the coffin
The cost of caring for your body prior to burial or cremation
The fee for your chapel of rest
The price of a hearse to a local cemetery or crematorium
The cost of transporting your body to a suitable resting place should you wish to be buried
Advice on death certificates and related documents
Assistance with bereavement counselling
It is worth finding out what your funeral provider includes in the price and whether different options are available.
You can add in as much or as little detail as you like regarding the service. Furthermore you should be able to change these details if you need to at no extra cost.
---
Where can I buy a funeral plan?
Hopefully, this guide answers some of your questions around what funeral plans are and some of their benefits.
So, what should you do next? Getting more information and personal advice is much easier than you probably think. We work with friendly expert advisors who provide free quotes in addition to more information.
All you need to do to get your free quotes is complete our free 30 second form.
Finally, there's no obligation or pressurised selling. Just the information and support you need to start making your plans.

Get your free funeral planning quote
---
*2016 Sunlife Cost of Dying report